A (In)visibilidade dos Kotirias: a sobrevida pela tradução
Keywords:
translation, translator's invisibility, Indigenous narratives, Kotiria, postcolonialism
Abstract
From a postcolonial and poststructuralist perspective, this article reflects on how history is continuously retold within a process that (de)limits the identity characteristics of minority cultural groups, within the walls of a "dominating" world. Indigenous peoples in the Americas have had their (hi)stories silenced by the will of the "Western" world, a will that more recently has been bending, fortunately, towards  m'ypé, that is, attempts at "mending". Taking m'ypé into consideration, translation can be rethought as a way of giving visibility to groups that find, in their narrative forms, ways of (re)telling their (hi)stories. In this article I examine a narrative from the Kotiria, an indigenous group that lives on the border between Brazil and Colombia. Looking at one narrative—taken from the Série Kotiria, organized by the anthropologist Janet Chernela—and focusing on Lawrence Venuti's (in)visibility theory, I discuss how we may learn more from the Kotiria's voices about the indigenous past, and how those voices still address, and directly so, much about the present.   
References
Barbosa, Heloisa G. Procedimentos técnicos da tradução: Uma nova proposta. 2ª ed. Campinas: Pontes, 2004. Print.
Chernela, Janet, org. Ña'pichoã/ As Estrelas de Chuva: o cíclo anual de chuvas e enchentes. Manaus: Reggo Edições, 2014. Print.
Chernela, Janet, org. Wa'i Duhi Ta'ri Hire/ De pássaro para Peixe: como os pássaros descem do ceú e se transformam em peixes. Manaus: Reggo Edições, 2014. Print.
Crocker, W. H., e Crocker, J. G. Os Canelas: parentesco, ritual e sexo em uma tribo da chapada maranhense. Rio de Janeiro: Museu do Índio, 2009. Print.
DePaula, Lillian. "Textualidade & Tradução." Tradução: sobre a quintahabilidade na língua, no outro, na arte." Orgs. L. DePaula, P. Rezende, M. Castro e T. Pertel. São Carlos: Pedro & João Editores, 2014:211-22. Print.
DePaula, Lillian. "Porque a tradução importa aos estudos da linguagem." Da análise descritiva aos estudos discursivos da linguagem a linguística no Espírito Santo. Orgs. L. N. Vidon e M. P. P. Lins. Vitória: PPGEL/UFES, 2009: 174-82. Print.
DePaula, Lillian, e Márcio P. Filgueiras. The Canela m ypé: mending ways or modos de reparação, the splendour and misery (need there be?) of presenting new social categories through translation. Jostrans 1 (2015): 150-61. Web.
Derrida, Jacques. "Living On: Border Lines." Deconstructions & Criticism. Org. G. Hartman. Nova Iorque: The Seabury Press, 1979: 75-176. Print.
Derrida, Jacques. L'oreille de l'autre. Montreal: VLB Éditeur, 1982. Print.
Derrida, Jacques. Torres de Babel. Belo Horizonte: Editoria UFMG, 2006. Print.
Derrida, Jacques. Gramatologia. São Paulo: Perspectiva, 2011. Print.
Hobsbawm, E., e T. Ranger, orgs. A invenção das tradições. São Paulo: Paz e Terra, 2002. Print.
Jakobson, R. Lingüística e Comunicação. São Paulo: Cultrix, 1969. Print.
"The Making of 'Mending Ways: The Canela Indians of Brazil.'" Smithsonian Research. Smithsonian National Museum of Natural History. n.d. Web. [Último acesso: 27 de abril de 2016].
Lewis, Philip E. The Measure of Translation Effects. In: VENUTI, studies reader. Londres: Routledge, 2004. cap. 20, p. 264-83 L. The translation
Mignolo, W. D. "Misunderstanding and Colonization: The Reconfiguration of Memory and Space." The South Atlantic Quarterly 92.2 (1993): 209-60. Print.
Niranjana, T. Siting Translation: History, Post-Structuralism, and the Colonial Context. California: University of California Press,1992. Print.
Orlandi, E. Terra à vista - Discurso do confronto: Velho e Novo Mundo. Campinas: Editora da Unicamp, 2008. Print.
Ottoni, Paulo. Tradução manifesta: double bind & acontecimento. Campinas, SP: Editora da Unicamp; São Paulo, SP: Edusp, 2005. Print.
Ottoni, Paulo. "Compreensão e Interpretação no ato de traduzir: reflexões sobre o enunciado e a significação." Lusorama –Zeitschrift für Lusitanistik: Vol.32.1997:19-27. Print.
Oustinoff, M. Tradução: história, teorias e métodos. São Paulo: Parábola Editorial, 2011. Print.
Rose, Marilyn Gaddis. Translation and Literary Criticism. Manchester: St. Jerome Publishing, 1997. Print.
Schleiermacher, F. "Sobre os diferentes métodos de tradução." Clássicos da teoria da Tradução: antologia bilíngüe: Vol. I, Alemão/Português. Org. W. Heidermann. Florianópolis: UFSC, Núcleo de Tradução, 2001: 38-103 Print.
Stenzel, K. A Reference Grammar of Kotiria (Wanano). Lincoln: University of Nebraska Press, 2013. Print. DOI: https://doi.org/10.2307/j.ctt1ddr99n
Venuti, L. The Translator's Invisibility: A History of Translation. London/New York: Routledge, 2008. Print.
Venuti, L. A invisibilidade do tradutor. Palavra 3 (1996): 111-34. Print.
Venuti, L. Escândalos da tradução: por uma ética da diferença. Bauru: EDUSC, 2002. Print.
Venuti, L. "Introduction." Rethinking Translation: Discourse, Subjectivity, Ideology. Org. L. Venuti. London/New York: Routledge, 1992: 01-17. Print.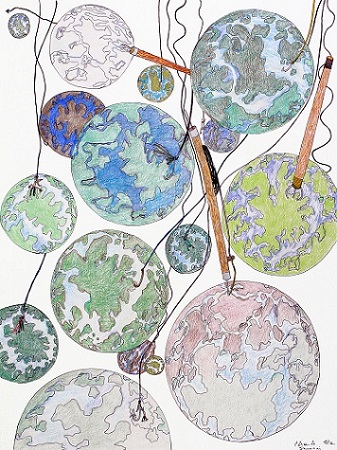 This work is licensed under a
Creative Commons Attribution-NonCommercial-NoDerivs 3.0 Unported License
.