Indigenous Multilingualism and Translation: The Creation of Intra- and Intersocial Hierarchies in the Communities of the Waorani People of Ecuador
Keywords:
Waorani, translation/transculturation, hierarchy-building processes, neocolonialism, Amazon rainforest
Abstract
The indigenous Waorani people of Ecuador's Amazon rainforest are immersed in a tightly woven net of neocolonial forces due to the presence of oil company workers, illegal loggers, and settlers pursuing individual interests in their territory. They also face the consequences of increasing bi- and multilingualism, resulting mostly from formal schooling in Waorani communities. This article addresses the institutions and individual actors exerting an influence on language use among the Waorani, and examines how language and translation foment intra- and intersocial hierarchies in the communities. Located at the interface between translation studies and cultural anthropology and based on empirical data and participant observation in the local community of Toñampari, the study highlights how bi- and multilingualism give way to the rise of "go-between" figures (Gondecki 315). The article shows that "go-betweens" display a crucial and often ambiguous position, which enables them to exercise a gate-keeping function in interpreting and translating events. This engenders possible conflicts of loyalty and on a larger scale contributes to aggravate unified action of the Waorani against the exploitation of the resources on their land
References
Acosta, Alberto. "Policy Paper 9. El Buen Vivir en el camino del post-desarrollo. Una lectura desde la Constitución de Montecristi." Quito: Friedrich Ebert Stiftung, 2010. Web. 17 Mar. 2016.
Asamblea Constituyente. Constitución del Ecuador. Quito: Asamblea Constituyente, 2008. Web. 17 Mar. 2016.
Bai 1a. Personal interview. 28 October 2012.
Bai 1b. Personal interview. 28 October 2012.
Bai 2. Personal interview. 29 October 2012.
Bandia, Paul. Translation as Reparation: Writing and Translation in Postcolonial Africa. Manchester and Kinderhook: Saint Jerome Publishing, 2008. Print.
Bandia, Paul. "Postcolonial Literary Heteroglossia: A Challenge for Homogenizing Translation." Perspectives: Studies in Translatology 20.4 (2012): 419-43. Web. 17 Mar. 2016.
Cabodevilla, Miguel Ángel. Los Huaorani en la historia de los pueblos del oriente. Coca: CICAME, 1994. Print.
Carcelén-Estrada, Antonia. "Covert and Overt Ideologies in the Translation of the Bible into Huaoterero." Translation, Resistance, Activism. Ed. Maria Tymoczko. Amherst and Boston: University of Massachusetts Press, 2010. 65-89. Print.
Conklin, Beth A. "Body Paint, Feathers and VCRs: Aesthetics and Authenticity in Amazonian Activism." American Ethnologist 24.4 (1997): 711-37. Print. DOI: https://doi.org/10.1525/ae.1997.24.4.711
Fuchs, Anna. "Die Bedeutung des Dolmetschens für indigene Sprachen in Guatemala. Entwicklung seit den Friedensverträgen von 1996. " MA Thesis. Karl-Franzens- Universität Graz, 2005. Print.
García, Ofelia. "Education, Multilingualism and Translanguaging in the 21st Century." Multilingual Education for Social Justice: Globalising the Local. Eds. Ajit Mohanty, Minati Panda, Robert Phillipson and Tove Skutnabb-Kangas. New Delhi: Orient Blackswan, 2009. 128-45. Print.
Gondecki, Philip. Wir verteidigen unseren Wald. Vom lokalen Widerstand zum globalen Medienaktivismus der Waorani im Konflikt zwischen Erdölförderung und Umweltschutz im Yasuni im ecuadorianischen Amazonastiefland. Diss. Rheinische Friedrich-Wilhelms-Universität, 2015. Web. 17 Mar. 2016.
Gramling, David. "Getting up onto Monolingualism: Barthes, Kafka, Myth." Thamyris/Intersecting 28 (2014): 15-38. Web. 17 Mar. 2016.
High, Casey. "Oil Development, Indigenous Organisations, and the Politics of Egalitarianism." Cambridge Journal of Anthropology 26. 2 (2007): 34-46. Print.
Instituto Nacional de Estadística y Censos. Las Cifras del Pueblo INDÍGENA. Una Mirada desde el Censo de Población y Vivienda 2010. Quito: INEC/CODENPE/CODAE/CODEPMOC/CONEPIA, 2012. Print.
Jeggle, Utz. "Verständigungsschwierigkeiten im Feld." Das Fremde im Eigenen. Beiträge zur Anthropologie des Alltags. Eds. Bernhard Tschofen, Monique Scheer and Thomas Thiemeyer. Tübingen: Tübinger Vereinigung für Volkskunde, 2014. 17-37. Print.
Jessner-Schmid, Ulrike, and Claire Kramsch. "Introduction: The Multilingual Challenge." The Multilingual Challenge. Eds. Ulrike Jessner-Schmid and Claire Kramsch. Berlin: Mouton De Gruyter, 2015. 1-21. Print.
Karpinski, Eva. "Invisible Borders: Translation and Multilingualism in Tusaaji: A Translation Review 3.3 (2014): 21-34. an Unequal World." Tusaaji: A Translation Review 3.3 (2014): 21-34.
Korak, Christina. "10 November 2012." Diary 2. Diary entry. 2012. 126-131. DOI: https://doi.org/10.1016/S1365-6937(12)70302-7
Korak, Christina. "07 November 2012." Notebook 1. Field notes. 2012. 17-22.
Krainer, Anita. "La educación intercultural en Ecuador: Logros, desafíos y situación actual." Fortalecimiento de organizaciones indígenas en América Latina: Construyendo interculturalidad: Pueblos indígenas, educación y políticas de identidad en América Latina. Grupo de investigación: E pluribus unum? Ethnic Identities in Transnational Integration Processes in the Americas. Universität Bielefeld. Eds. Juliana Gregor-Ströbele, Olaf Kaltmeier and Cornelia Giebeler. Frankfurt: GTZ-ZIF, 2010. 38-44. Print.
Kruse, Jan, Stephanie Bethmann, Judith Eckert, Debora Niermann and Christian Schmieder. "In und mit fremden Sprachen forschen. Eine empirische Bestandsaufnahme zu Erfahrungs- und Handlungswissen von Forschenden." Qualitative Interviewforschung in und mit fremden Sprachen. Eine Einführung in Theorie und Praxis. Eds. Jan Kruse, Stephanie Bethmann, Debora Niermann and Christian Schmieder. Weinheim and Basel: Beltz Juventa, 2012. 27-69. Print.
Liu, Lydia. Translingual Practice: Literature, National Culture, and Translated Modernity in China 1900–1937. Stanford: Stanford University Press, 1995. Print.
Marais, Kobus. Translation Theory and Development Studies. New York and London: Routledge, 2014. Print. DOI: https://doi.org/10.4324/9780203768280
Mignolo, Walter D., and Freya Schiwy. "Double Translation: Transculturation and the Colonial Difference." Translation and Ethnography. The Anthropological Challenge of Intercultural Understanding. Eds. Tullio Maranhão and Bernhard Streck. Tucson: University of Arizona Press, 2003. 3-30. Print.
MOSEIB. Modelo del sistema de educación intercultural bilingüe. Ecuador mama llakta shimi rimaykunamanta, kawsaykunamanta yachay. Quito: Ministerio de Educación/DINEIB, 1988. Print.
Narváez, Iván. "Huaorani: Mundos paralelos, mundos superpuestos y submundos." La guerra del fuego. Políticas petroleras y crisis energética en América Latina. Eds. Guillermo Fontaine and Alicia Puyana. Quito: FLACSO Ecuador/Ministerio de Cultura, 2008. 257-82. Print.
ONWO. "Comunicado oficial del ONWO por incidente con aislados." Observatorio de Derechos Colectivos del Ecuador. CDES, 2013. Web. 17 Mar. 2016.
Ortíz, Fernando. Contrapunteo cubano del tabaco y el azúcar. Madrid: Ediciones Cátedra, 2002. Print.
Pichilingue, Eduardo. "El plan de medidas cautelares como parte de la política específica de protección a los pueblos indígenas aislados en Ecuador." Pueblos indígenas aislados en la Amazonía y el Gran Chaco Diciembre 2008. Ponencias del encuentro regional sobre indígenas aislados. Un aporte de Ecuador a la construcción de una política regional. Eds. Poema Carrión, Alejandro Aguirre and Alejandra Adoum. Quito: Ministerio del Ambiente de Ecuador/Plan de Medidas Cautelares para la Protección de los Pueblos Indígenas Aislados/Programa para la Conservación y Manejo Sostenible del Patrimonio Natural y Cultural de la Reserva de la Biósfera Yasuní, 2010. 68-78. Print.
Pratt, Mary Louise. Travel Writing and Transculturation. London and New York: Routledge, 1992. Print.
Rival, Laura. "Los indígenas Huaorani en la conciencia nacional. Alteridad representada y significada." Imágenes e imagineros: Representaciones de los indígenas ecuatorianos, siglos XIX. y XX. Ed. Blanca Muratorio. Quito: FLACSO, 1994. 253-92. Print.
Rival, Laura. Hijos del sol. Padres del jaguar. Los Huaorani de ayer y hoy. Quito: Abya-Yala, 1996. Print.
Rivas, Toledo Alex, and Ponce, Rommel Lara. Conservación y petróleo en la Amazonía ecuatoriana. Un acercamiento al caso huaorani. Quito: EcoCiencia - Abya Yala, 2001. Print.
Spitta, Silvia. Between Two Waters: Narratives of Transculturation in Latin America. Houston: Rice University Press, 1995. Print.
Todorov, Tzvetan. Die Eroberung Amerikas. Das Problem des Anderen. Trans. Wilfried Böhringer. Frankfurt am Main: Suhrkamp, 1985. Print.
Viatori, Maximilian Stefan, and Gloria Ushigua. "Speaking Sovereignty: Indigenous Languages and Self-Determination." Wicazo Sa Review 22:2 (2007): 7-21. Print. DOI: https://doi.org/10.1353/wic.2007.0022
Zerries, Otto. "Nachwort. Die kulturgeschichtliche Stellung der Auka unter den Urwaldindianern Südamerikas." Menschen im Regenwald. Expeditionen zu den Auka im wilden Osten Ecuadors. Eds. Peter Baumann and Erwin Patzelt. Frankfurt am Main, Berlin and Wien: Safari bei Ullstein, 1983. 179-85. Print.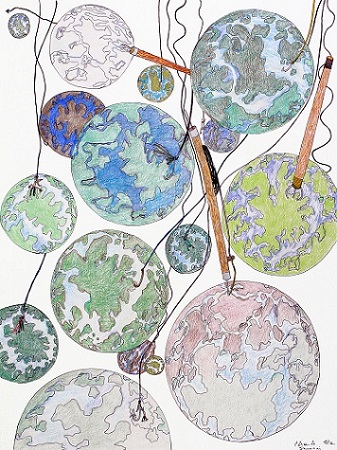 This work is licensed under a
Creative Commons Attribution-NonCommercial-NoDerivs 3.0 Unported License
.